LaVell Edwards Stadium Seating Chart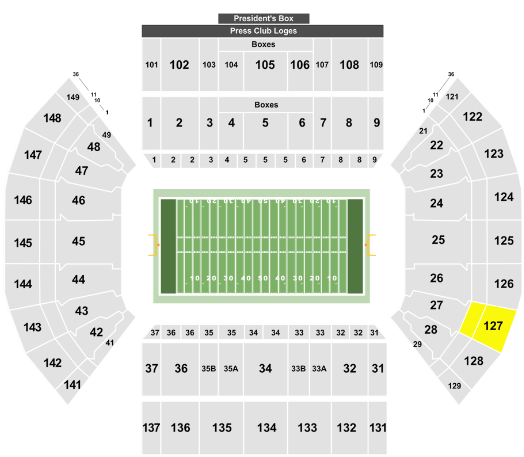 LaVell Edwards Stadium is an outdoor football stadium with room for 63,470 fans. Seating is cushioned and arranged around the field with bleachers on all four sides. All seats are within close reach of restrooms and other amenities that you can expect from a football stadium venue.
Of the available seating, wheelchair seating and up to three companion seats are available throughout. Wheelchair seating is located on the upper and lower concourses of the West Stands and on the lower concourse of the East Stands. Patrons with mobility issues but who are not wheelchair bound, BYU offers limited mobility seating as well.
All wheelchair and limited mobility seating is available on a first come, first serve basis.
If you require emergency ADA seating due to injury or accident, then please call the venue as soon as possible to request accommodation.
Please note that ADA-reserved seating may not be available at every event, especially for last-minute emergencies.
If you have questions regarding the venue's policy for accessibility seating or any necessary accommodations, please call the venue at 801-422-2981.
The attached photo is what you can expect from event seating.
NOTE: LaVell Edwards Stadium at Brigham Young University seating arrangements may vary. Different types of events may have different seating arrangements. It is recommended you check the individual event seating chart when selecting your tickets.
Grab your tickets today and select your best seats. Check out the LaVell Edwards Stadium schedule to see all the upcoming announcements and latest events.
For policies and ticket guarantee info, please see the ticket information page.