LaVell Edwards Stadium Information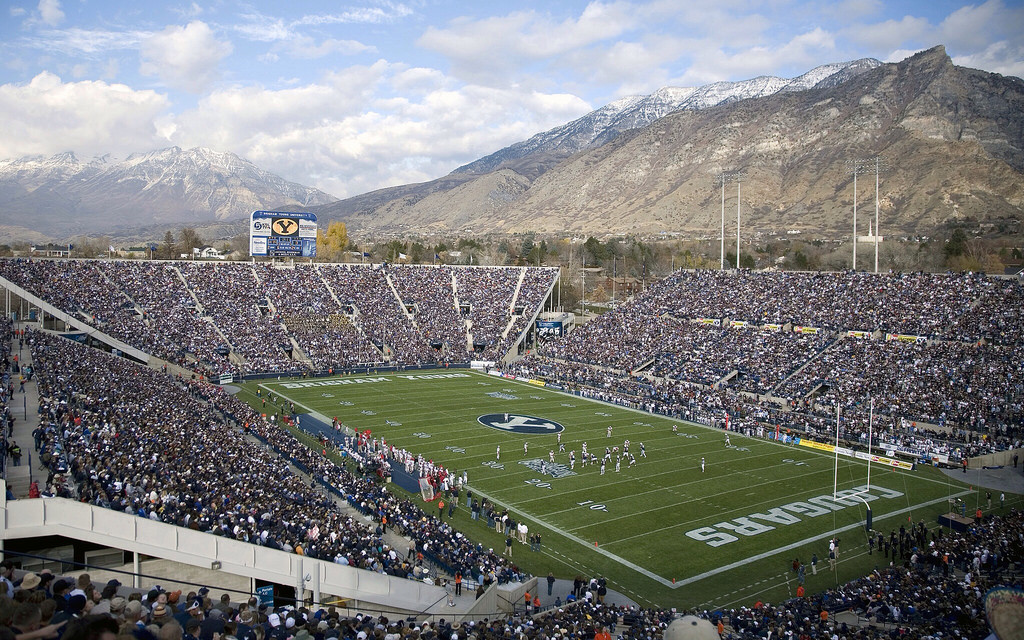 LaVell Edwards Stadium is an outdoor stadium in Provo, Utah. It lies on the campus of Brigham Young University and is primarily used for the university's college football team. It is currently the home of the BYU Cougars, and was opened as Cougar Stadium in 1964.
History
The stadium opened on the campus' north end in 1964 as Cougar Stadium. It was built to replace a smaller 5,000 seat venue that used to serve the university. The first game played at the new Cougar Stadium was on October 2, when 33,610 spectators, a state record, came to watch the match.
The stadium's first expansion came in 1982 to allow for crowds of over 65,000 fans. This expansion included permanent concrete stands in the endzones that were separated by entryways from the east and west grandstands. The playing field was lowered by 8 feet and the track around the original field was removed to make room for more seating.
At the time, LaVell Edwards was the head coach at BYU for 29 seasons, preceded by ten years as an assistant. He retired after the 2000 season and in honor of his tenure, the stadium was renamed after him.
One of the biggest honors for the stadium came during the 2002 Olympics, when the Stadium's parking lot was used as a park and ride lot for guests attending events at the nearby Peaks Ice Arena and Soldier Hollow.
Did you Know
Part of the largest collection of Jurassic period fossils in North America is housed at BYU. They were stored underneath the east bleachers of the stadium until 2005 where they were then moved for display in the BYU Museum of Paleontology's collection room.
More LaVell Edwards Stadium at Brigham Young University information:
Ticket Policy:
Click here for our recommended ticket marketplaces ticket policies and information on authenticity guarantees.
Seating Map:
Click here for the LaVell Edwards Stadium at Brigham Young University seating map and different seating sections.
Parking Information:
Click here to read about the LaVell Edwards Stadium parking arrangements.